News
October SD FFA's New Era Update
9/20 - 403 FFA Jackets awarded to members by SD FFA Foundation
9/20 - 2020 South Dakota State Fair FFA Results
Thank you to Titan/Graham/Goodyear tires, and BigIron Auctions for partnering with the SD FFA Foundation to host an an online auction to benefit the SD FFA Foundation!
7/20 - 2020 SD FFA Star Partners Help Fund New Generation of Student Leadership
2020 SD State FFA Convention Virtual Career Carnival and Workshops
2020 Virtual SD State FFA Convention
SD FFA Foundation Publications
Does your FFA chapter have a service event planned for National FFA Week? Maybe you are planning to host a winter safe driving day for your community.
This is a reminder that FFA offers Day of Service Mini-Grants for up to $400 to support one-day service events in the areas of Community Safety; Hunger, Health and Nutrition; Environmental Responsibility; or Community Engagement.
The application is easy and can be found at FFA.org/LivingToServe/grants.
If you have questions, reach out to the Living to Serve team, LTS@FFA.org. Don't wait, apply today!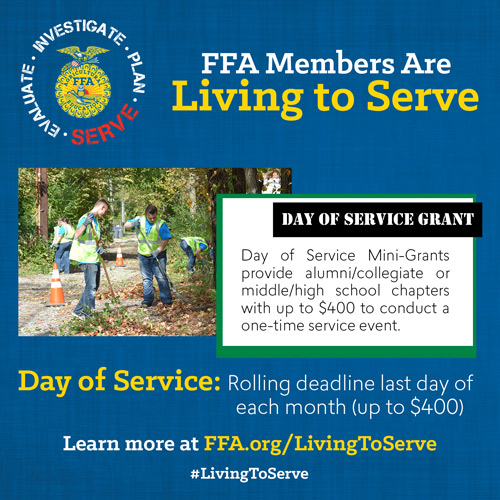 SD FFA Foundation Links:
SD FFA License Plates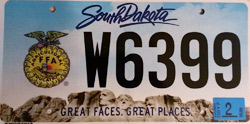 The SD FFA Foundation publishes the "SD FFA's New Era" newsletter
three times a year. This newsletter is available to every SD FFA member,
advisor and Foundation sponsor.
If you would like to advertise in this newsletter please click HERE.

Acrobat Reader is needed for many of the documents on this page. If you do not have it, you can download it free here.