News
SD State FFA Convention Program
Register for the SD FFA Foundation Virtual Race -
Support the Blue, Go for the Gold!!
February FFA Foundation Newsletter
SD FFA Foundation awards FFA Jackets to a record breaking 343 FFA members from 62 FFA chapters
SD FFA Star Partners Help Fund New Generation of Student Leadership
How is your chapter Living to Serve?
Help highlight how South Dakota is putting our leadership into action through service projects that benefit local communities. Right now there are two opportunities to receive funding to support service activities.
The Semester-Long Living to Serve Grant is now open and due by Sept. 1. This grant provides middle/high school FFA chapters with up to $1,200 to implement a service-learning project in their community for one semester. The Day of Service Mini-Grant offers alumni or middle/high school chapters with up to $400 to conduct a one-time service event. This application is open all year.
The application process is easy, and you can pick which grant best suits your chapter's Program of Activities. Apply today at FFA.org/LivingToServe.
If you have any questions about the grants, reach out to the Living to Serve team, LTS@FFA.org.
| | |
| --- | --- |
| SD FFA Foundation Email Newsletters: | SD FFA's New Era Update: |

SD FFA Foundation Links: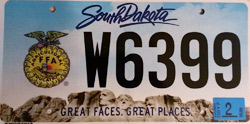 SD FFA License Plates
The SD FFA Foundation publishes the "SD FFA's New Era" newsletter
three times a year. This newsletter is available to every SD FFA member,
advisor and Foundation sponsor.
If you would like to advertise in this newsletter please click HERE.

Acrobat Reader is needed for many of the documents on this page. If you do not have it, you can download it free here.